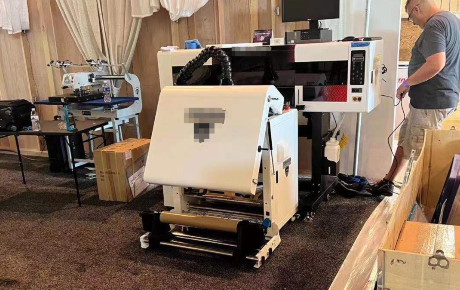 The American agent participated in the exhibition with TODOjet 60cm DTF printer with auto powder shaker, and achieved complete success. Our DTF printing machines were loved by many customers at the exhibition.
Our 60cm DTF printer adopts Epson original print head and Hoson board, which can support 2/3/4 head configuration at present, with high printing accuracy, and the printed clothes patterns are washable. The new powder shaker independently developed by us can realize automatic powder recovery, save labor costs, facilitate use and improve work efficiency.
Our 30cm DTF printing machine, stylish and simple in appearance, stable and sturdy frame, with 2 Epson XP600 nozzles, color and white output, you can also choose to add two fluorescent inks, bright colors, high precision, guaranteed printing quality, powerful functions, Small footprint, one-stop service of printing, powder shaking and pressing, low cost and high return.
We have our own factories and mature production lines, and we are looking for agents all over the world. If you are interested in joining us, please contact us!

TODOjet's business covers many countries around the world, including emerging markets and mature markets. We have a complete sales system and are committed to using our professional knowledge and first-class service to help customers improve their digital printing business.