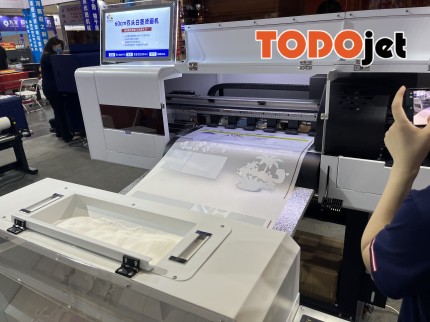 As many who have dabbled in DTG printing realize, getting the perfect picture isn't as easy as you might think. If you're considering purchasing or printing your own DTF transfer, let's review the top things to look out for.
Artwork preparation and color matching:
Proper handling of artwork is the most important step in any type of printing process, especially for DTF transfers. You need the right software and extensive knowledge to prepare artwork for best results. This is especially true if you plan to produce the same color for repeat orders and Pantone color matching. Keep in mind that some DTF printers come with lower quality RIP software that does not allow for color management. Make sure your RIP software is powerful enough to provide the color correction and matching your customers need. TODOjet DTF printers come standard with RIIN, and support CADLink and Flexiprint. These softwares are recognized as very stable and easy to use in the industry.
Quality of consumables: The phrase "garbage in, garbage out" is often used when it comes to artwork; the same is true for every element involved in a DTF transfer. You have many options when it comes to PET films, powder adhesives and inks. Finding the right combination of film, ink and powder binder is the key to a successful DTF transfer. TODOjet provides matching consumables for your use, and our consumables are finalized through multiple choices. For specific tests, you can refer to our previous articles.
The quality of the equipment used: In addition to the high-quality raw materials, you will find a huge difference in the quality of the equipment required to produce the DTF transmission. As mentioned, we've seen some manufacturers offer retrofit options. Early adopters of DTF technology will first recognize the importance of high-quality equipment, especially as it relates to the consistency of the final product. Accurate control of each step in the DTF process is important to the final result. For example, registration is critical, especially when dealing with multiple printheads, as you must register the white layer precisely. TODOjet's DTF printers have stable performance and high cost performance. We welcome inquiries and samples order at any time.
Other factors: There are many other factors that play a role in determining the quality of a DTF transmission. You will most likely need climate control with a specific humidity. Static electricity and humidity levels directly affect print quality. An uncontrolled environment increases the risk of clogged printheads and inconsistent printing. Control your production environment to ensure consistent, high-quality results. Proper powder application and curing is the key to successful DTF transfer. Please refer to our previous article for details.
Once customers see a properly manufactured and applied DTF transfer, they are impressed. DTF transfer can be a way to expand your business and accept more orders. However, before you start making them yourself, you might want to try a professional DTF transfer provider. As technology evolves, there are sure to be well-established workflows and systems to make it easier for businesses of all sizes and skills. Then TODOjet is the right choice for you. We offer 30cm and 60cm DTF printers to suit your needs at different stages of development.