As we all know, the print head is one of the most important components of digital inkjet printer.

It represents the printing accuracy, response speed and color reproduction capabilities of a digital printing machine, and has a huge impact on printing performance and finished product quality.

So, the printhead industry leader - Epson, is the newly launched I1600 printhead easy to use? What is the difference between it and I3200 printhead? Please be patient and read on~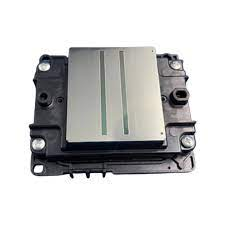 The I1600 printhead is a new type of print head released by EPSON in 2023. It has a precise internal structure, accurate ink placement, and consistent ink droplet size. It has the same specifications as the I3200 in terms of size, nozzle resolution and drop ejection performance.
The difference is that the I1600 has 1,600 nozzles (half of the I3200 print head), and the original 8 channels have become 4 channels. The printhead is divided into three series: A1 series is suitable for water-based ink, U1 series is suitable for UV ink, and E1 series is suitable for eco-solvent ink.
Using the I1600 printhead, you can basically achieve the high precision of I3200 printing and meet the high quality requirements for finished products. Although its printing speed is relatively slow, it is more cost-effective!
It can be said that the I1600 printhead is the economical alternative to the I3200 printhead.
Subdivision and selection of printhead
Let's start with a set of official comparison data: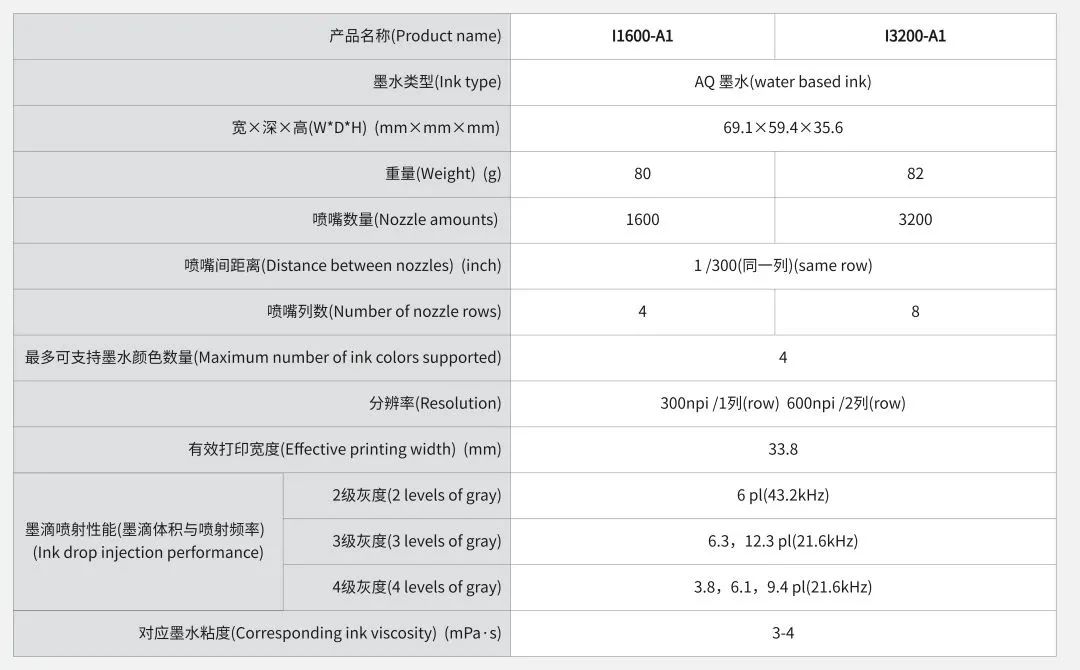 (A1 series comparison)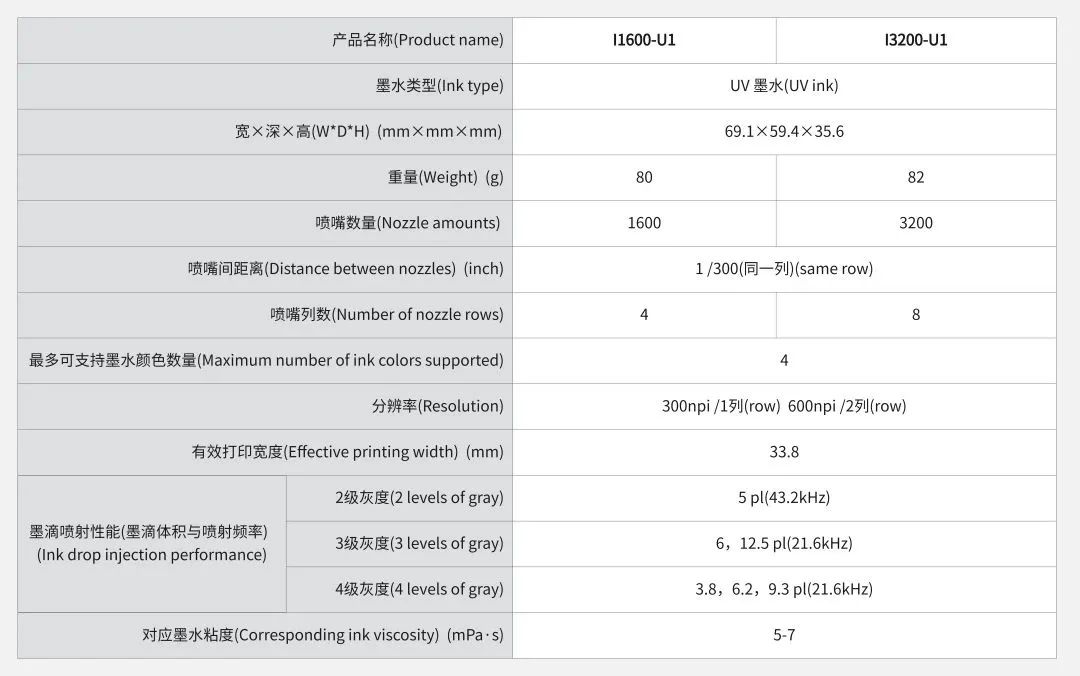 (U1 series comparison)
Specifying the differences between the two printheads, specifically, the I1600 printhead is more flexible and the piezoelectric drive has strong durability.
It can still be used normally after 106 billion times of piezoelectric durability; it has strong pressure durability and can be used normally after being cleaned at 40KPa pressure for 1,500 times. The print head has no ink leakage and can be used normally.
The manufacturer has optimized and upgraded the print head ink road component materials and adhesive design, and the product has wider ink compatibility.
I3200 is a highly used printhead on the market. It has 3200 nozzles and high resolution (600dpi/color). It can achieve up to 4 colors of output and the printing speed is greatly improved. Its biggest advantage is its high speed.
If you have higher efficiency requirements for printing needs, it is recommended to choose the I3200 printhead.
These two printheads adhere to the consistent advantages of Epson printheads, which can achieve excellent image quality and stability, and the durability of the product is also completely great.
In May this year, TODOjet has launched the DTF printer and UV DTF Printer equipped with 2/3/4 Epson I1600 printheads, and it is also the first echelon of domestic equipment service providers that Epson has officially selected to use the printhead.
During the 2023 Shanghai International Printing Exhibition (APPPEXPO 2023), TODOjet officially exhibited two models using Epson I1600 printhead, which attracted the attention of industry peers and customers. Once the machine was launched, it received a lot of orders.
At present, DTF Printer DTF-A602 and the popular UV DTF Printer UV-F604 are the first batch of beneficiaries. The blessing of branded printheads also makes the printer more cost-effective and practical.
This is why we have enriched our product line based on actual market applications and provided customers with more options to meet your different printing needs.
In the future, TODOjet will continue to rely on its research and development capabilities and its own factory advantages to strengthen product technical support, continuously optimize product lines, and meet users' pursuit of product diversification and development needs for printing quality stability.
We look forward to working with you hand in hand to create brilliance together!