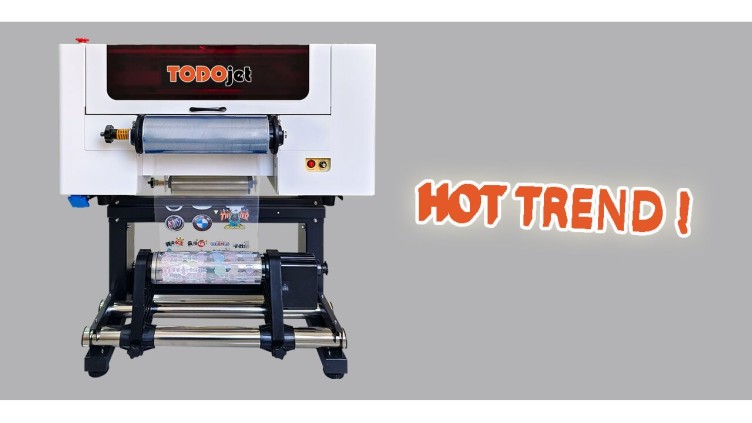 We all know that various types of printers and tools had been invented to satisfy more stringent requirements of markets, which makes printers more and more professional in a certain field but at the cost of more and more limited functions.
Excellent as UV DTF printers does , it share similar advantages with UV printers and DTF printers, but UV DTF printer users can never escape from laminating process. They all have their shortcomings. So we believe that uniting the functions of different types of prints will be the next trend of this industry. Especially in a period of post-pandemic economic recovery, the demand for customers will be stronger and stronger which needs more powerful and efficient printers.
Under this prospective, we are very proud to launch our 2023 Dual Heads A3 size print & laminate 2 in 1 UV DTF printer. It has integrated all the advantages of UV/DTF/UV DTF printers, please see as follow.
1. Time-saver
This machine can also finish laminating process for you while guaranteeing excellent printing. It only takes simple 3 steps to finish printing: first, install AB film. Second, output picture. Third, Heat laminate the sticker. It saves the time consumed by laminating process or heat-press process. A3 is also equipped with dual Epson printheads, which upgrade the efficiency to a higher level.
2. Money-saver
As mentioned above, laminating function has been integrated with A3 UV DTF Laminating Printer. So you don't have to spend extra money buying a laminator. This saves you a huge amount of money.
3. White ink and Varnish
The white ink stirring and circulating function has been applied in A3 UV DTF Printer. White ink circulation cooperates with an automatic cleaning system of printheads, these two techniques will greatly prevent the clogging of the printheads. Also varnish is very important in UV DTF printing, TODOjet UV DTF printer specially add varnish stirring function to ensure varnish smooth inkjet.
4. UV Varnish Printing
A3 UV DTF Printer also supports UV Varnish Printing. This kind of printing creates an exquisite and luxurious surface, which brings a more vivid touch. This technology is widely used on packaging, business card,etc. Commonly A3 size UV printers hardly have varnish channels. We specially design this channel for UV DTF printing.
If you think UV DTF printers are what you need, our 2023 latest UV DTF Printer is the best choice for you. But if you want traditional UV printers/ DTF printers/ DTG printers, we can also meet your needs. Please feel free to contact us.