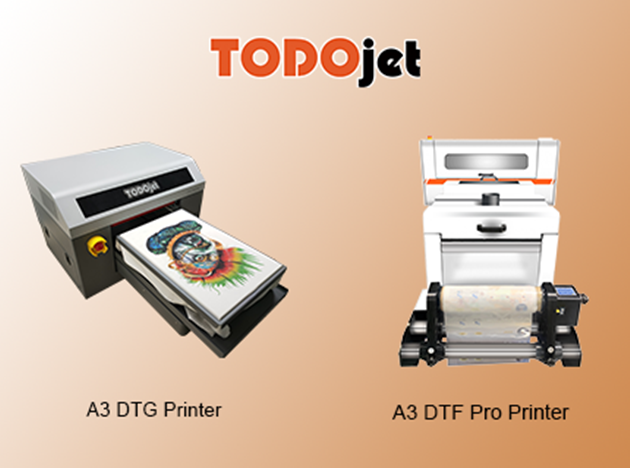 What is difference between DTF printer and DTG printer?
DTF means direct to film printing,its an alternative printing process to DTG printer.As we all know that DTG is direct to garment printer,which is suitable for cotton fabrics printing, such as cotton T-shirt, POLO shirt printing. And DTF printer is suitable for all non-cotton fabrics printing,such as polyester, hat printing,shoes printing,canvas printing.
DTF printer usually used together with powder dryer machine,we printing on the PET film first with special pigment ink,and then a powdered glue is applied to the back and then heat cured ready for storage or instant use. Compare to DTG printer, DTF no limit about the non-cotton fabric,and no need pre-treatment, also this way can work out not the mass printing.
DTF is an exciting innovation to garment field that cannot be ignored. If you have shied away from DTG printing in the past because of the pre-treatment process required when using white ink or you are tired for making plate for screen printing, DTF breaks this cycle and requires no pre-treatment but still offers the soft hand touching and good water fastness .
Generally speaking,DTG is mainly used for cotton garments, DTF Printer cannot replace DTG for cotton printing, but it is a good alternative for the one who want creat a small business in such hard COVID time.Investment about 20,000USD( One set DTG printer,one set DTF printer,one powder machine and of course one heat press machine) can open your own shop to creat a big business.